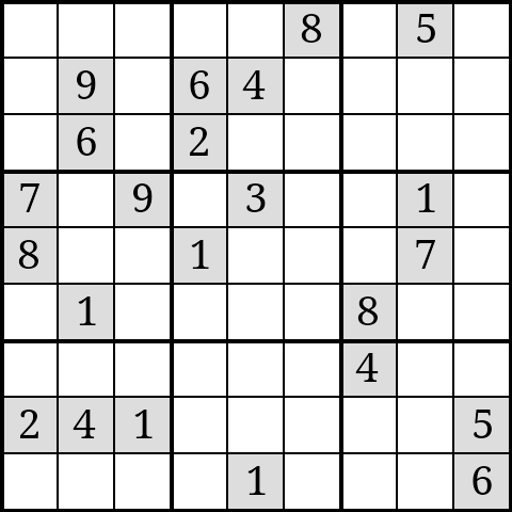 Sudoku Forever™
Sudoku Forever 1.3.5
Copyright © 2016-2017, David J. Rager
Fourth Woods Games™
http://www.fourthwoods.com
Sudoku Forever
is yet another Sudoku puzzle game available on Google Play™. Sudoku Forever features a random puzzle generator that generates each new game on the fly. This allows for a virtually limitless number of Sudoku puzzles available.
Game Play
The first game is loaded when the Sudoku Forever starts for the first time. The game is completed by filling each row, column and 3x3 square using the numbers 1 through 9 exactly once. Once the entire board is filled, the game is finished. A new game may be started by selecting "New Game" from the Sudoku Forever menu. You may exit the game at any time using the "Back" button on your device or "Quit" from the Sudoku Forever menu. The current state of the game is automatically saved and will be reloaded the next time Sudoku Forever is started. Sudoku Forever features three levels of difficulty. Easy, for those just starting out. Medium, to step up the difficulty a bit. And hard, for those that really like a challenge. Changing the difficulty level will automatically start a new game at the new level. Sudoku Forever will allow you to insert notes into the squares of the grid to help keep track of potential plays. The notes may be added by clicking the "Pencil" icon on the number pad or by long pressing the selected square. The notes may be deleted by following the same steps or, clicking the "Pencil Eraser" icon will clear all the notes at once. Sudoku Forever also offers the ability to save the current game and return to it at a later time. You may save the game by selecting "Save Game" from the Sudoku Forever menu. Once the game is saved you may choose to begin a new game. You may return to your saved game at any time by selecting "Load Game" from the Sudoku Forever menu. There are a total of ten save game slots. When all the slots are filled, a new saved game will replace the oldest saved game. Saved games may be deleted by long pressing on the saved game slot and confirming deletion.
Sudoku Forever is available now on Google Play!
Try the online version for free!
Click here
to play the online version.
Visit us on our
Facebook page!